Winter is the best timing to go to Kerama Island
Kerama island is the place for all nature lovers as you research. Every summer, a lot of people come to Okinawa to chill out at the beautiful beaches in those islands. Don't worry. You are not the only one who wants to have a relaxed time there. Maybe you should worry that there are so freaking many people having the same idea. The truth is that you get less chance to buy ferry tickets to go to Kerama in Summer. Instead you get more chance to get typhoon hits and you pay more for your hotel/hostel in Summer. Just because I am working at the hostel right next to the ferry terminal, people ask me about the ferry information everyday. I am always happy to talk with them and share my experience in the islands. However, I have seen so many people gave up to go there. And it always happens a lot in Summer.
Here's the main reasons why they had to give up.
There was a high possibility that they would get stuck in the island due to the typhoon
There was no sheets available when they wanted to book
The ferry got cancelled due to the sea condition
All accommodation in the island were too expensive
I feel so sorry when people ask me about the island and I recommend some things to do there but I see them at the next day and say "Well… shit happens". So, come to Okinawa in winter. You will not have those troubles. And don't worry about the temperature here. Even in winter it is around 22 degree. The last time I went to one of the Kerama island was January 14th, and the temperature was 25 degree. I took off my t-shirts when I arrived in the island, went to the beach and did snorkeling there. It was really really comfortable because water was still warm, there was no one at the beach except me, my friend, and other 2 groups.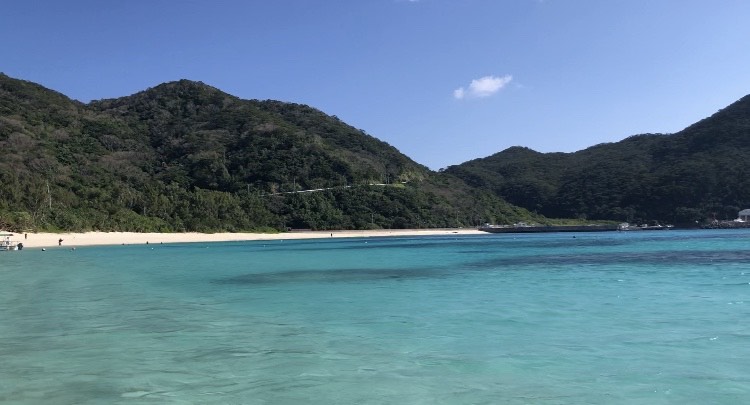 Use high-speed ferry if you have only one day
You want to go to the islands to feel slow-life atmosphere but don't take slow ferry if you want to do day-trip. Even in the high season, there are only 3 ferries to go and come back in a day. Let's say you are going to Zamami island and check the time table below.
Ferry Zamami (slow ferry) / One way: 2,120 yen, Round-trip: 4,030 yen
| | | | | | | | |
| --- | --- | --- | --- | --- | --- | --- | --- |
| Tomari | Aka | Aka | Zamami | Zamami | Aka | Aka | Tomari |
| Depart | Arrive | Depart | Arrive | Depart | Arrive | Depart | Arrive |
| 10:00 | 11:30 | 11:45 | 12:00 | 15:00 | 15:15 | 15:30 | 17:00 |
High Speed Queen / One way: 3,140 yen, Round-trip: 5,970 yen
| | | | | | | | |
| --- | --- | --- | --- | --- | --- | --- | --- |
| Tomari | Aka | Aka | Zamami | Zamami | Aka | Aka | Tomari |
| Depart | Arrive | Depart | Arrive | Depart | Arrive | Depart | Arrive |
| 9:00 | | | 9:50 | 10:00 | 10:10 | 10:20 | 11:10 |
| 16:00 | 16:50 | 17:00 | 17:10 | 17:20 | | | 18:10 |
This time table is an example. This is the schedule of the ferry at 1st of April 2020.
If you decide to take Ferry Zamami to go and come back in one day, you will arrive there at 12:00, and need to leave the island at 15:00 which means you can only spend 3 hours in the island. To get enough time to chill out and enjoy the nature, you need to take High speed queen to save your time.
Tokashiki island is the best choice for one day trip
Tokashiki is one of the island in Kerama. It is the nearest one from Naha. It takes about half an hour by high speed ferry so you can spend more time and you don't have to worry about seasick. If my friends would visit me and plan to go to the island but have only one day, I would take them to Tokashiki island.
The secret route to enjoy Tokashiki
There are some options for you to explore the island.
Rental car/ motor cycle / bicycle
Public bus
Walking
This blog is those people who don't have international license to drive or people who wants drink cold beer in the island like I do. So my choice would be walking. There is a bus from the port to the beach called Aharen beach. Most people take the bus or go to rental shop but do not follow them because there is the other way to explore this island. Instead of driving you can enjoy hiking to another beach called Tokashiku beach. There is a big hill that you need to get over but at the same time you will feel flesh air, hear birds twittering, and see beautiful view. It is 30 minuets walking to Tokashiku beach from the port. And when you get to the beach, you will see there are not so many people because everyone else is in Aharen beach or rental shop at the moment. The beach is yours. After chilling at the beach for a couple of hours, you have one more chance to hike to Aharen beach. Don't worry. Don't complain yet. There is the best spot in Tokashiki island on the way to Aharen beach from Tokashiku beach. The spot is called 照山展望台 "Teruyama tenboudai". Most people come back from Tokashiki island without checking this place because they did not have chance to know it. Now you have found this blog and know the tips. Don't miss the chance. After you enjoy the breathtaking view from Teruyama tenboudai, you can go to Aharen beach and buy some lunch and beer. Aharen beach has some small restaurant and you can do marine activities. When you get there afternoon, the other people who took the bus may be finished chilling there so the beach is yours.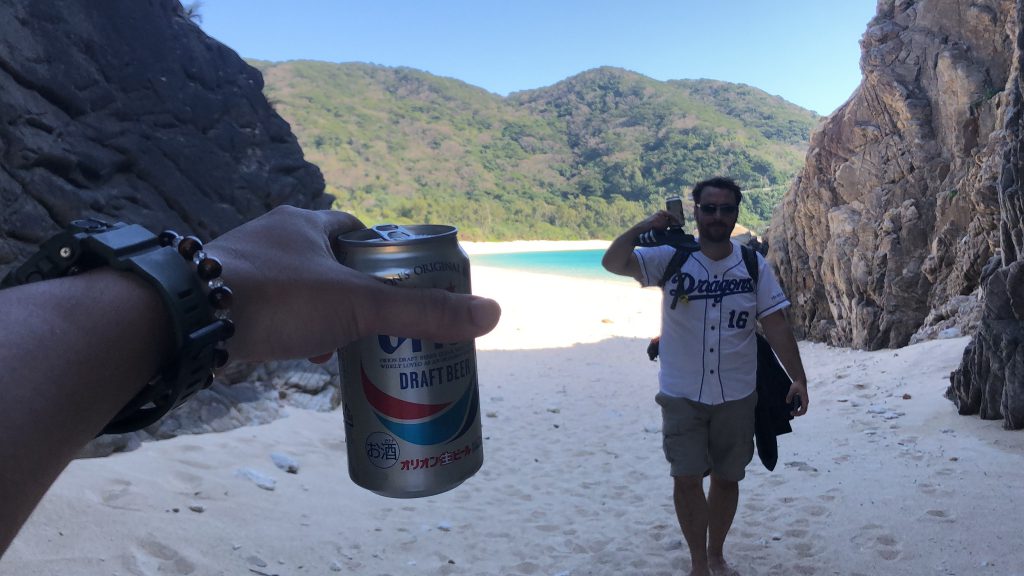 To get more tips, come to MyPlace
If you want more tips or information, come find me. My name is Asuki. You can ask me anything. I am working at the hostel called "MyPlace guesthouse" I hope that your journey in Okinawa will be unforgettable and I can see you in the near future.