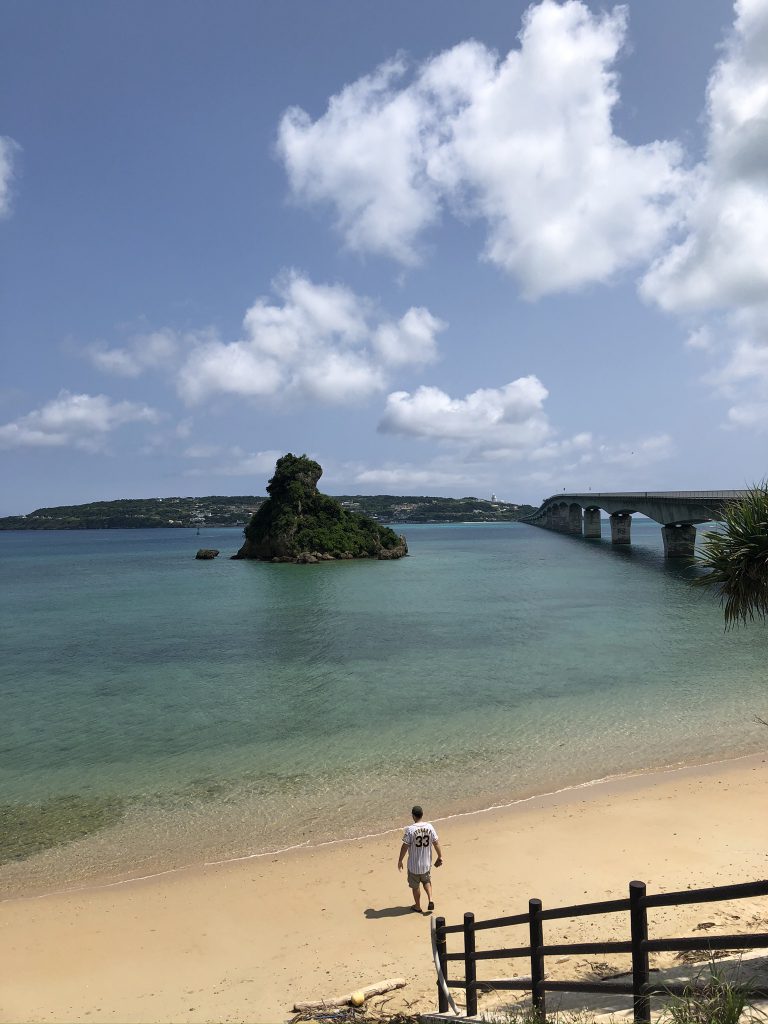 Today I'm gonna talk about a jewel of Okinawa: Kouri Island.
You could definitely spend more time there but if you go for a day trip like myself you already get a quite good impression of the beauty.
As for some facts, Kouri Island is north of Naha, near Nago, on the northern half of Okinawa main island. From MyPlace guesthouse in Naha it is about 2 hours of a drive by car but you can go there by public transport in about 2-4 hours (depending on the day and the time). Kouri Island is fairly small with only 3 square kilometers and you can drive around it in 10 minutes by car. Which is if you don't stop of course. Which you will. Trust me.
The water is absolutely blue and clear and there are numerous little island around the area which makes it look just beautiful.
Part of your trip to Kouri Island will be to enter via Okinawa's longest bridge! But before you do that you should definitely stop at the parking lot before and have a look at the bridge from this side. Kouri beach is not only a beautiful spot to go for a swim but also a great photo spot, so take some time here. It is also a good idea to leave the car parked there for a bit and walk over the bridge because the view from there is just amazing! Believe me, you won't get over it how blue and clear the water is!
When you finally arrive on the island (by car or by foot or whatever transport you chose) there is Kouri Ocean Tower on your right hand side. Unfortunately I can't tell you too much about it since it was closed in Corona times but the view must be gorgeous. There is a 800 ¥ entry fee which also gives you access to a shellfish museum.
Either way after this we will drive around the island. The view is just beautiful and there are plenty of opportunities to stop and take pictures or just take in the view. There are also quite a few beaches you should stop and have a swim or snorkel around. The three most famous beaches Kouri Beach, Tinu Beach and Tokei Beach have showers. But if you keep looking you might even find your own little private beach.
About halfway around the island you will find the stop of the famous heart shaped rocks of Kouri Island (which is also Tuni Beach). There is paid parking and a little restaurant with food and refreshments. These rocks are definitely cute to see and probably the main reason why this island is sometimes called island of love (also, apparently Adam and Eve have been at this beach, so I guess there must be some magic to it…).
From here just enjoy the island, the sea and some ice cream at the beach 😉